Weddings and Ceremonies
Weddings and Ceremonies
Weddings and Ceremonies
Villa Condulmer has always been an ideal setting for refined and exclusive ceremonies.
From private occasions such as baptisms, communions or confirmations, up to our best events: wedding ceremonies. The spaces, the exterior with the park and the lake, the eighteenth-century halls, characterize every event with a touch of strong and exclusive personality.
The spouses who will choose the Villa as the setting for their most beautiful day will be able to choose the perfect setting depending on the season: our park, the nineteenth-century winter garden, our Sala del Camino for aperitifs, lunch and dinner, while the civil wedding ceremonies can take place in the park under the ancient trees, in the shade of our splendid barchesse or in the historic Tornielli hall.
The dedicated staff, coordinated by our event & wedding manager, will take care of every detail, touching high levels of customization on customer's requests.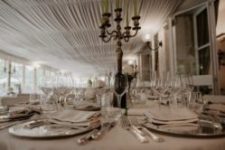 EXAMPLE WEDDING
MENU MEAT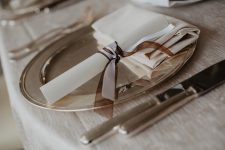 EXAMPLE WEDDING
MENU FISH
The proposed menu are to be considered purely indicative. The chefs of the Villa and our event manager are available for any customization or request from our customers
Contact Us using the module below