Suite Conti Tornielli
Suite Conti Tornielli
Suite Conti Tornielli
The eighth suite of our hotel is dedicated to the Tornielli family.
About the Tornielli family, of Longobard origins and of its forefather Ildebrando, we have certain news since the beginning of the thirteenth Century. In 1536 the Count Giovanni Battista Tornielli bought the Palazzo ai Servi in ​​Venice, since then called Palazzo Torniello ai Servi.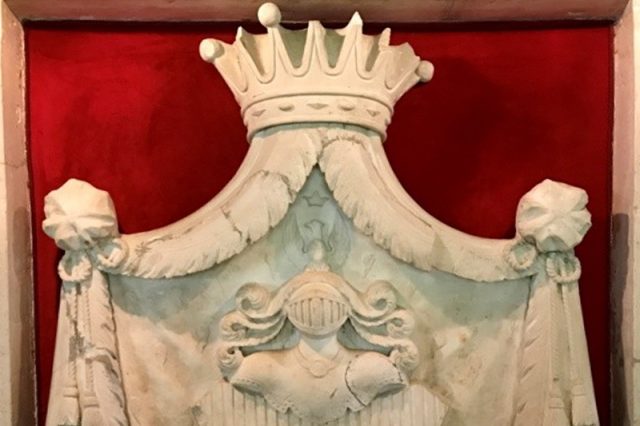 Towards the end of the 18th century another Giovanni Battista Tornielli inherited from the last descendant of the Grassi family the estate of Condulmer, with the Villa as well.
Count Giovan Battista Tornielli was president for over twenty years, from 1850 to 1872, of the Grand Theater "La Fenice" of Venice, a place of world renown. Famous is the friendship of the Count with the composer Giuseppe Verdi, who hosted in the Villa immediately after the disappointment of the much criticized premiere of the "Traviata", staged on March 6, 1853 at La Fenice.
A testimony of the friendship between the count and the composer is one of the four frescoes in the central hall of the Villa, which portrays the same count while leading a cart pulled by an oxen, above which is depicted Verdi with a lute in his hand, in company of a happy brigade.
This fresco, like the other three that still adorn the large entrance hall of the Villa, was commissioned by Giovan Battista Tornielli to the painter Eugenio Moretti Larese.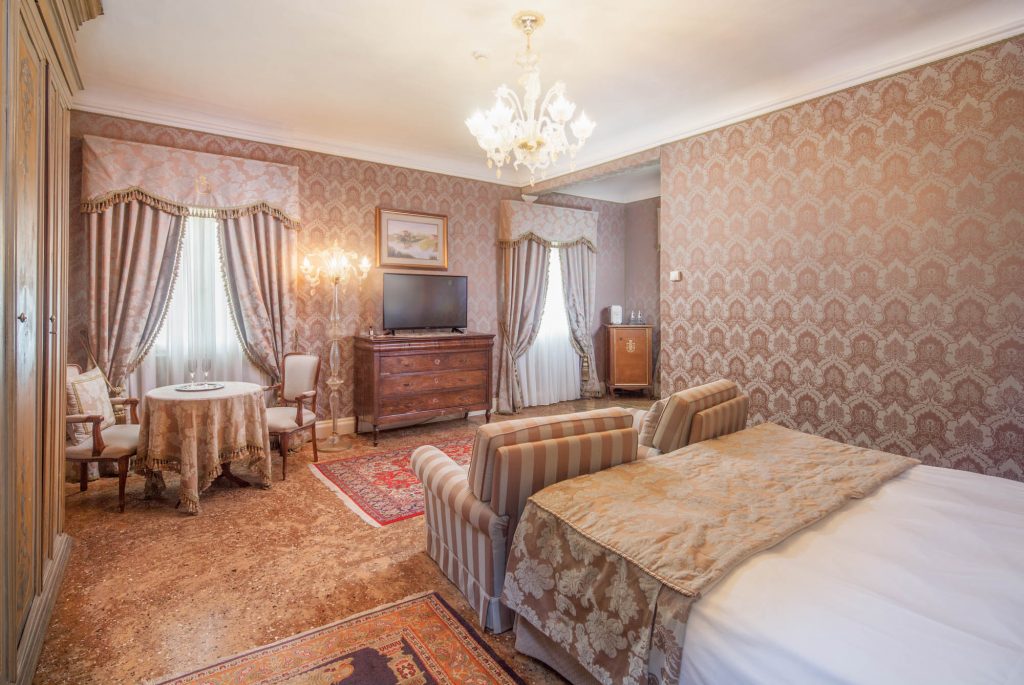 Anectodes and rumors
Inaugurated in 1792, destroyed by fire twice in 1836 and recently in 1996, the Gran Teatro La Fenice was one of the most elegant theaters in Italy. Resurrected three times from its ashes like the mythical bird, since 2003 and after years of work, the theater has been returned to its city and its ancient splendor.
The historical archive of the Teatro La Fenice, now online, preserves the material relating to almost all the works put on stage. In particular Giuseppe Verdi's scenographic sketches of his five "absolute first" are kept: Ernani, Attila, Rigoletto, The Traviata, Simon Boccanegra.
Room Equipment
Air conditioning (central control) | Heating | LCD TV Channels | Sky | Free Wi-fi | Desk Wardrobe / Closet | Telephone | safe | minibar | Bath Room | Hairdryer | towels | bathrobe | Toilet | Bath Products
Room Services
Restaurant Villa Condulmer | Buffet breakfast included | Wake up | Laundry service | Car | Parking for helicopters | Small pets allowed | swimming pool open throughout the summer season
24 reception and other services
24 hours front desk concierge | Reception Multilanguage | Check-in 14:00 | Check-out by 12.00 | service of booking | Reservation of our extras | Reservations to our outstanding inner Bistrot Ai Due Cedri