Golf
Golf
Golf
Golf Club Villa Condulmer offers a wide range of high quality services , hospitality and a charming Club House in the Venetian country style and a well-manicured golf course.
The prestigious golf club of Villa Condulmer is at your disposal with its spaces and its masters for rehearsals, corporate team building, opportunities for recreation as well as for the fun of all the professionals who want a perfect green and an exclusive club.
The 18-hole par 71 course and 5,900 meters long was built at different times. The first nine holes, designed by John Harris, wind through the centuries-old plants of the eighteenth-century villa park. The second nine holes, designed and built 10 years after the first on a project by Marco Croze, develop more in length.
The greens are fast and well defended, the course is flat, the water comes into play after half the course.
The 250-meter practice range has 9 targets with distances of 25 to 200 meters and practice greens that faithfully reflect the standards of the field.Golf Club Villa Condulmer boasts a reputation for excellence.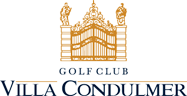 WWW.GOLFVILLACONDULMER.COM
VAI AL SITO